I Wish I Weren't Writing This Article- a SimCity Review from a Marketing Viewpoint
I didn't sit down at my PC today planning to write this article, I actually had some pure leisure time in mind. However, I haven't been able to do what I planned to do quite a bit this week as much as I'd hoped- play the latest version of SimCity, released Tuesday, March 5th. I've been able to play the game some, but as I'm going to get into, there've been some technical hiccups to say the least. In between bouts of trying to play and weeping softly at all the wasted time I've had a chance to monitor a lot of different channels of sentiment and also watch EA's response with an involved but sort of dispassionate perspective. See, I buy games like these expecting to get screwed. It's a lot like going to the casino- if you plan to lose you'll probably have a pretty good time.
Before I get into what I've seen other people saying, and then into what EA's response has been (pretty good, actually, considering) I want to explain what my personal experience has been. In a nutshell, the SimCity servers are lying whores:
…but I still love them so, so much.
I preordered after applying to and playing in the second of two one-hour betas; I literally went to the page and ordered the deluxe digital download directly after playing it. D. Then, I played in the 4-hour "stress test" beta and realized the potential the whole game had- and that's when I started getting really excited. I got the game early, Monday night because I live on the West Coast. I started stabbing the button at 9 PM and started downloading the unlocked game at 10:01. It took about 40 minutes to download and unpack, and I managed to get a good 2 hours in with the game before forcing myself to go to bed as I had work in the morning. It was only enough time to set up a region, claim a city, and noodle a little.
I went to work on Tuesday, then watched RAW from Monday night, then sat down at about 9 PM to play SimCity. A ha ha ha. I sat there for the next three hours Alt-tabbing between servers that were melting and several forums that were exploding. I didn't get to play. I did manage to play Wednesday for about 3 hours, and Thursday for the same. I was completely locked out last night and as I write this on Saturday afternoon, I am also currently locked out.
Here's what I know about SimCity in easy to digest bullet points:
1. This is not the SimCity you are used to. It's much more dynamic, there are things to do beyond just "grow your city and make Simoleans until everything is   arcologies", as fun as that was:
The disasters can't be turned off (unless you want to disqualify yourself from leaderboards)- but there is a sandbox mode that I haven't tried as it just seems very unsatisfying to consider.
 2. YES THE GOD DAMN CITIES ARE GOD DAMN SMALLER,WE KNOW, STOP POSTING IT. It's a very deliberate decision EA made so that your dad's laptop can also run SimCity, and not just your mechagodzilla of a gaming rig.
The thing is, it doesn't matter. Cities are all part of a larger region now- and if you want to, you can set up a 16-city region and run 'em all yourself, go nuts. I think          however, that would be missing the point because…
3. SimCity '13 or whatever we end up calling it is essentially a multiplayer game at heart. Amidst the cries of "I can't wait until they hack in offline single player" (impossible, the games are saved server-side) or "I'll play it when someone cracks the DRM" (not going to happen, Diablo III for example is  almost a year old and hasn't been cracked and won't be cracked until the server code is leaked, same as SimCity) what's being lost is that people are pissed that it's not the                 same game. Wanting the game to be single player only, wanting to be able to save games, wreck your city, and go back again and start from before the disaster are things this game simply is not about.   It's a reboot, and it's going to leave a bad taste in some people's mouths. The good news is, there are  still plenty of alternatives, including the last SimCity game which no one played until modders got their hands on it and made it not suck so bad. I, for one, can't wait to unleash hordes of pollution and villainy on my neighbors in the region, then bulldoze, start again,  launch a rocket,build an arcology- and so on, and so forth.
4. They almost assuredly have teams that started working on DLC and/or expansion packs- I really hope it's the latter- in parallel to the team working on the main game release. It's going to be expensive to buy everything that comes with this game, as proven by the first DLC, which already represents an extra $30 to spend to "have everything", if you didn't get it for the discounted $20 by spending $80 on the deluxe version. This is not the whole game.
          5. This is a beautiful game. There's no way around that one, I love to watch this game. These pictures don't even do it justice, it is so pretty in motion.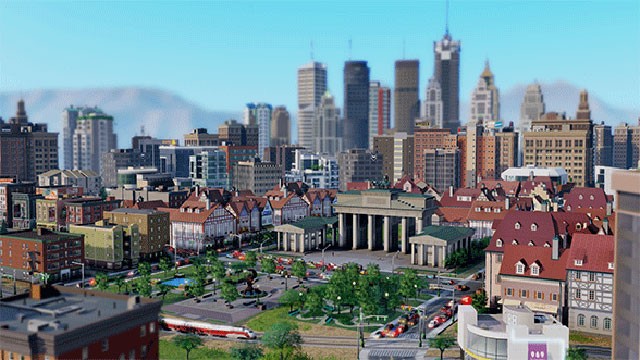 6. The long term "endgame" of SimCity is the leaderboards.  The "Simulation" aspect of things isn't something I am interested in particularly, min-maxing traffic through gaming the system by building huge cities with only one road, for example, doesn't interest me. I'm more interested in building up huge regions with other friends and working together to take on the leaderboards.
7. This is a very fun game that's not ready for prime time yet. Hold off a week on buying it. I'm really enjoying it;  I'm just tired of having to wait and roll the dice for 45 minutes to see if I get to play it or not. This is in spite of them supposedly doubling server capacity already- I haven't noticed an appreciable difference in my ability to connect and now that it's the weekend things are getting even worse.
So what are people so Angry about?
1. Always on DRM– you have to connect to EA's servers to play the game. You can't boot it up on a laptop on a Navy submarine, and you can't use it to relax on a plane without paying for wifi. Does this suck? I'm not really bothered by it, I have a fast and consistent connection to play on, but that's ignoring a lot of other people that don't have one. It seems greedy and stupid but a retailer wouldn't let thieves walk out the door without paying for merchandise, EA is not going to willingly let people pirate their games if they can help it by any means. I know it's a  controversial opinion but DRM is something gamers brought upon themselves.
2. The servers are melting– the game is pretty much unplayable for a large portion of the people  that bought it. This is clearly the biggest issue, people paid anywhere from $45 to $80 for the game and can't play it. The most common conclusion being drawn is that if the game simply had a one player offline mode- which is what a lot of people identify SimCity with, none of this nonsense would have happened. I've been around for some pretty big launches and it is getting irritating that companies are all "We didn't know so many people wanted our product" when they know damn well how many people are going to play based on preorders. It's hard not to think they aren't just being greedy or stupid by not scaling up at first to meet demand.
3. EA has flatly stated, "no refunds for Origin downloads". This really pisses people off too because no one, anywhere, anytime said WE NEED ANOTHER DIGITAL DISTRIBUTION SERVICE  and the service has frankly sucked like a Hoover since it was launched. It's seen as another money grab by EA, an inefficient, buggy system when they easily could have adopted Steam, a system that has had time to mature and already does work.
4. There's no single player, offline mode– this is less a reasonable consumer complaint, and more a "waah, my game changed" complaint. I'm not saying it's not legit. I'm saying I have no sympathy for you if you bought a game unresearched and didn't know what it was going to be in advance. There are 105 million results in Google's index for "simcity review"- there's something in there about the game, probably, somewere. Just a hunch.
The SimCity launch has been the perfect poop blizzard of poorly estimating consumer demand, a beloved franchise that changed a lot, and a seemingly soulless corporation greedily and clumsily implementing DRM ostensibly to help gamers, but ultimately perceived as "to fatten those margins".
The other side of this coin is that as a marketer, it's interesting for me to study a trainwreck like this from a PR/marketing/crisis management perspective. EA has done a lot of things right but I don't know if A) there's going to be any lasting damage or B) what the scale of said damage might be. At the time of this writing EA's stock has not moved since the game's release on Tuesday. I think what we're seeing is digital Funzo trampling
I don't think it bothers EA at all that there is so much demand for their game that it's breaking their infrastructure- to your average stockholder, who doesn't play games or give a crap about a server queue, that looks like you have a product that the consumer really really really wants to buy. And they're right to think so, in spite of this fiasco the game remains the top selling PC game on Amazon. However, they have to respond. Here's a brief summary of their response so far.
The company and its reps have been active on Twitter, as has Ocean Quigley, the Creative and Art Director for the title. Senior Producer Kip Katsarelis also posted on the official blog:
" You, the fans, are important to us. It's why we got into games and it's because of you that we  here at Maxis were able to complete our dream of making another SimCity. This has been an exciting week for us, but as you know there have been some bumps along the way. We want to shed light on one of the most significant issues that we are facing right now, as well as the steps we're taking to resolve them so that we can provide you with an enjoyable experience.
 Server capacity is our biggest obstacle. We launched in North America on Tuesday and our servers filled up within a matter of hours. What we saw was that players were having such a good time they didn't want to leave the game, which kept our servers packed and made it difficult for new players to join. We added more servers to accommodate the launch in Australia and Japan, and then more yesterday to accommodate the launch in Europe. As of right now, we are adding even more servers which will be going live over the next three days. And, our plan is to continue to bring more servers online until we have enough to meet the demand, increase player capacity and let more people through the gates and into the game.
Earlier today, we released a patch that temporarily cut off some features including leaderboards, achievements and Cheetah Speed to reduce data stress on the servers and effectively free up space so that we can let more people into the game. These are great features that we're proud of and we'll turn them back on soon, but our number one priority is to bring stability to our servers. This update also resolved some of the bugs and issues that have been frustrating players. You can read all about it at http://forum.ea.com/eaforum/posts/list/9341807.page
We will be posting regularly to keep you up to speed on developments, so please check back for updates. We are committed to doing everything we can to deliver a stable and enjoyable experience and we thank you for your continued patience and support."
EA has also added 8 additional servers and patched the game- but they aslo removed the fastest gameplay speed, cheetah, which messes with the way a lot of people play, and they removed features such as sorting on the Join Game screen as well.
In addition to getting on a sort of filtered Reddit-style AMA on Twitter today, Maxis SVP Lucy Bradshaw has also posted the following on the SimCity blog:
"Here's a quick update on the problems we were experiencing with SimCity – and a little something extra for people who bought the game. The server issues which began at launch have improved significantly as we added more capacity. But some people are still experiencing response and stability problems that we're working fast to address.
So what went wrong? The short answer is: a lot more people logged on than we expected. More people played and played in ways we never saw in the beta. OK, we agree, that was dumb, but we are committed to fixing it. In the last 48 hours we increased server capacity by 120 percent. It's working – the number of people who have gotten in and built cities has improved dramatically. The number of disrupted experiences has dropped by roughly 80 percent. So we're close to fixed, but not quite there. I'm hoping to post another update this weekend to let everyone know that the launch issues are behind us.
Something Special for Your Trouble
The good news is that SimCity is a solid hit in all major markets. The consensus among critics and players is that this is fundamentally a great game. But this SimCity is made to be played online, and if you can't get a stable connection, you're NOT having a good experience. So we're not going to rest until we've fixed the remaining server issues.  And to get us back in your good graces, we're going to offer you a free PC download game from the EA portfolio. On March 18, SimCity players who have activated their game will receive an email telling them how to redeem their free game.
I know that's a little contrived – kind of like buying a present for a friend after you did something crummy. But we feel bad about what happened. We're hoping you won't stay mad and that we'll be friends again when SimCity is running at 100 percent. SimCity is a GREAT game and the people who made it are incredibly proud. Hang in there – we'll be providing more updates throughout the weekend."
So in summary, they have apologized, made changes to the product that will instantly help with sentiment towards the game and brand, are being responsive on social media, letting customers vent on their Facebook page, and ultimately will be offering a free product in the future.
EA is doing many things right, but they should have avoided this disaster in the first place. Companies have to start anticipating this demand, and leasing servers for overflow, or they will have complex PR issues such as these to deal with when similar titles are launched. EA was already voted the worst company in America, and SimCity is a game that everyone, not just gamers, knows and loves. This was a bad miscalculation but ultimately, I don't think it will hurt EA at all. Until people stop buying these games en masse- and the marketing is just so good that it's not going to happen- we're all at their mercy.
I'm gonna go try to play again…*crosses fingers*…damn.
Now what am I supposed to do- go outside?